METEOR controller is a specialized irrigation controller with powerful functions. There is a simple but unique operation panel for users. There are two output models for this controller, that is, direct current and alternating current.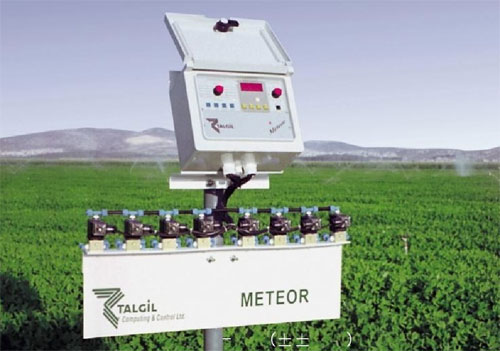 Fertilization characters:
Specialized fertilization: volume/volume or time/time

Adjust the fertilizer distributor's working periods in accordance with the change of the flow rate, thus achieving a best fertilization effects.
Major characters:
Irrigate in accordance with time or volume;

Every site with an independent procedure;

Irrigation period can be set any time within the period from 1 to 99 days;

The max. irrigation per day is 9999 times;

Programmed irrigation;

Take the soil humidity into consideration;

The remain irrigation amount or time can be adjusted at any time;

Irrigate on the basis of volume or time;

Three periods of fertilization: before the fertilization, in the fertilization and after the fertilization;

Various lists of mixture of water and fertilizer;

The main valve's delayed action or action ahead of time;

Data destroy-free on the condition of blackout;

Low energy consumption in the direct current model;

Wash the filters according to differential pressure or time;

Break off the fertilization according to fertilization amount;

Manual pause/start/shut off;

Emergency procedures for extreme temperature.
---
DREAM controller ----a professional controller with powerful functions. It features with compact and flexible structure, easy operations and can be used in farm or greenhouse.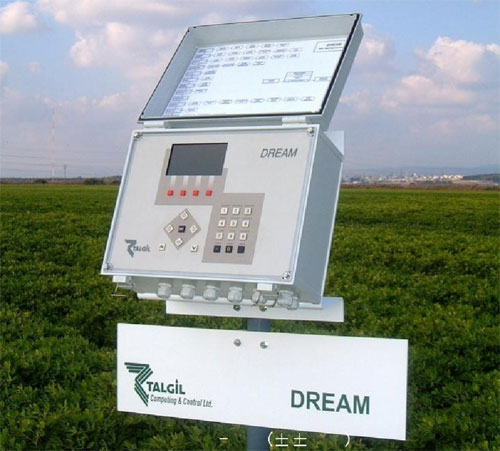 Characters:
Applicable to various kinds of irrigation models;

Flexible user net;

The valve can be used to irrigate independently, or be collected with other valves as a valve group;

Applicable to all sources of water;

The filter back wash automatically in accordance with the programmed time period or differential pressure;

The protecting device monitors the irrigation system, the water source, the filter system, the control system and alert when any problem occurs.

Water and fertilizer are cumulated in the system;

The main valve moves with the irrigation valve;

The standby battery can store the variable data.
Fertilization
DREAM controller can be used in uniform distribution or site distribution. In uniform distribution, all users on one irrigation line fertilize with the same amount. While in site distribution, the fertilizer amount can be set differently for different users.
Wireless control:
Two cores single cable system of the DREAM controller refers to the connection of RTUs with the valve and the water meter in the control system within a circle radius of 10 km through the cable of two cores.
The RTU has the ability of communication with the controller. It can receive the order from the controller and send the message collected back to the controller. One cable of two cores can connect 60 RTUs at most.